O Cante Alentejano (The Alentejo Singing)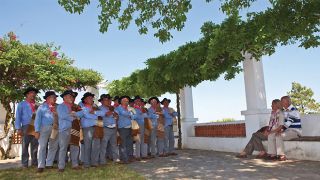 A genuine and unique musical expression in the world is Portugal's cultural heritage: Cante Alentejano, which was recognised as Intangible Cultural Heritage of Humanity by UNESCO in 2014.
Sung in chorus and without the use of musical instruments by groups of men and women, Cante Alentejano is a popular manifestation characteristic of the various municipalities of the district of Beja, Baixo Alentejo. It was the Municipality of Serpa which took the initiative for its inscription on the World Heritage List, together with the Alentejo Regional Tourism Authority.
The singing is maintained by choral groups, some of which have been around for a century, and has always taken place in informal contexts, whether working in the fields or at a party. The lyrics speak of feelings and of everyday moments. It is not specific to any social stratum, but is generally associated with the rural classes, in this region where agricultural industrialisation and mining developed from the end of the 19th century. The first choral group appeared in 1926, associated with the workers of the São Domingos Mines; a second group followed in Serpa in 1927.
You can check at the local tourist offices if any shows are planned, but the singing appears spontaneously in any tavern or recreational association, any day in an after-work relaxation. It is also possible to visit the Museu do Cante (Cante Museum), opening in Serpa in the summer of 2021.
Below is the video produced by Portuguese-Brazilian director Sérgio Tréfaut in 2014 to support Cante's UNESCO application.
---
---